"I hate to say this cliche," Sharon Owens said Monday, "but there's a new sheriff in town."
That afternoon, her husband, Democrat Craig Owens, was sworn in as Cobb County's new sheriff during a ceremony at the Cobb Police Training Center in Austell. When he takes office Jan. 1, he will be the first Black sheriff in the county's history.
Moments after taking his oath of office, Owens said he would release a 100-day plan later this week.
In the Nov. 3 general election, Owens defeated longtime Sheriff Neil Warren, receiving 213,143 votes or 55%. Warren has been sheriff since 2003.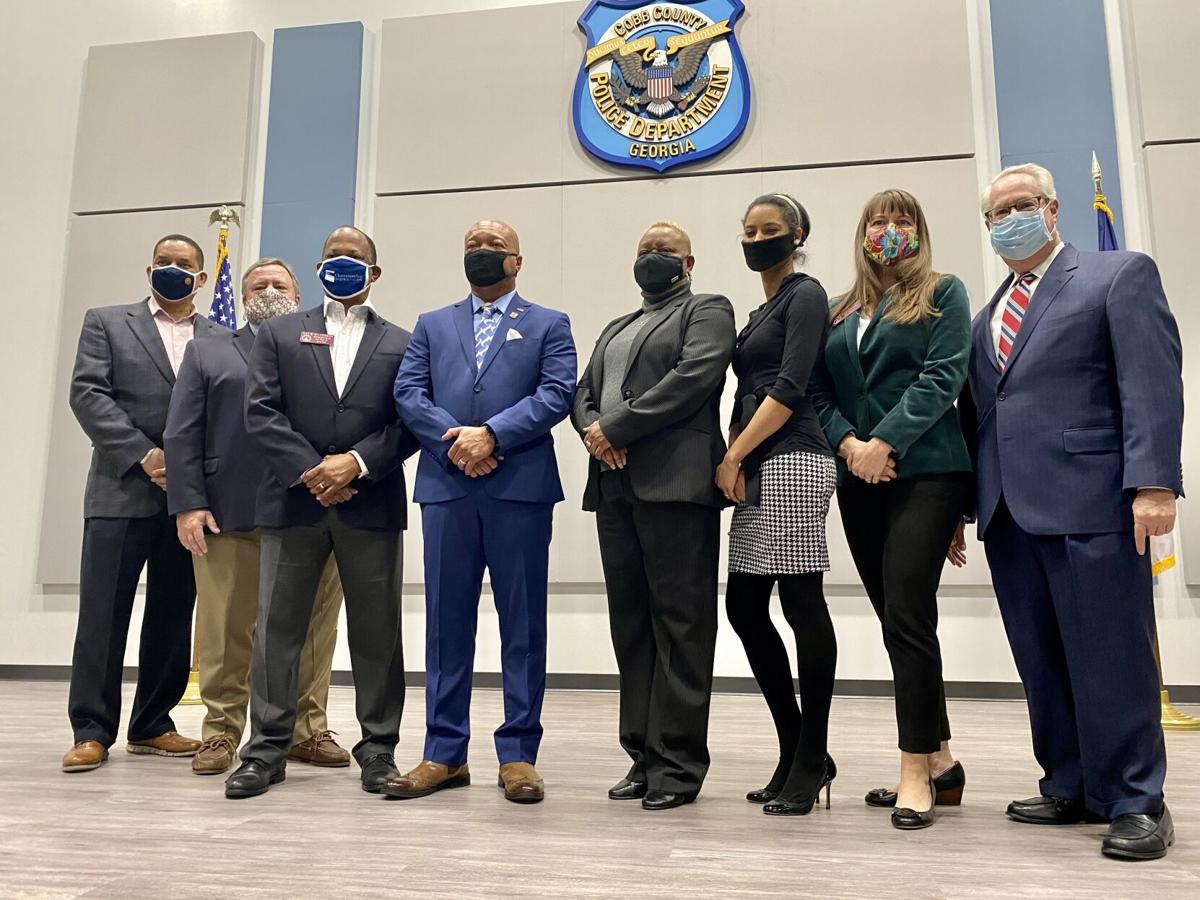 The campaign was contentious. The sheriff runs the Cobb County Adult Detention Center, and Owens blamed Warren for a series of deaths among inmates. Warren, in turn, said those deaths were due to inmates' preexisting health conditions and accused Owens of exploiting them for political gain.
Owens has softened his tone since winning the election and on Monday thanked Warren "for his years of service to the county," adding, "I wish him well in his transition to retirement."
Warren did not attend the ceremony. Among those who did was Lisa Cupid, chair-elect of the Cobb Board of Commissioners.
"I wanna thank you for having the courage to step up and act in an area where so many knew something needed to be done, but so many felt helpless," Cupid said. "This is more than just assuming a position.
"We're talking about ameliorating and addressing an office that has had generational impact on so many here in Cobb County," she continued. "We're talking about opening doors and creating a future for a population of people who say there is none. We're talking about creating a safe space in Cobb County for everyone. That's what this means to me. And I just want to say thank you."
Other speakers included former Gov. Roy Barnes, former Cobb Chairman and Georgia Attorney General Sam Olens, east Cobb Commissioner Bob Ott and state Rep. Teri Anulewicz, D-Smyrna.
Candidates for sheriff pick a chief deputy when they qualify for election. On Monday, former deputy Rhonda Anderson took her oath of office for her new role also.
In 1983, Anderson, a Cobb County native, became the first African American hired by the office.
Several members of the office's current command staff attended the ceremony, and Owens said they will stay on when he assumes office in January.
"We're recognizing that we have to restore truth and trust and transparency, which is what we ran our campaign on," he said.
In an interview in November, Owens said he had three priorities: improving inmate care at the detention center; ending the office's partnership with U.S. Immigration and Customs Enforcement, known as 287(g); and reviewing the office's staffing and $88 million budget.
The 287(g) program gives local and state law enforcement agencies immigration enforcement powers. When it was implemented in 2007, the Cobb Sheriff's Office was the first agency in the state to use it.
At Monday's ceremony, he said he will review guidelines from the Centers for Disease Control and Prevention regarding COVID-19 when he takes office "to make sure it is the safest detention center in the state of Georgia."
Owens grew up in Atlanta, just over the border from Cobb.
"We had a different perception of Cobb County as I was growing up," he said. "You don't come across the river. If you come across the river, (you're) in trouble. … But that's changed. Cobb County, ladies and gentlemen, has changed. And I can honestly say: for the better."
He grew emotional when saying goodbye to the Cobb County Police Department, where he was first hired in 1989. Two years ago, he was promoted to major in the department.
"It is bittersweet — having the opportunity to leave the job that I've loved … for 30-plus years," he said, pausing to gather himself. "This is home. This is home. And it's hard to leave home, but I've got a new home to go to."